As the UX/UI design industry continues to evolve, requirements for UX designers become more and more demanding. So if you want to be a hotshot designer in 2023, you'll need more than just the technical know-how. You'll have to have special skills to stand out from the crowd and become the envy of your peers!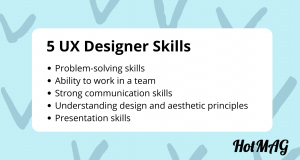 This article will provide an overview of 5 essential UX designer skills that are necessary to build a successful design career this year. Let's dive in!
1. Problem-solving skills
Problem-solving mindset lies at the heart of user interface design. A successful UX designer is someone who is able to identify and resolve user pain points. Critical thinking and problem-solving are essential qualities that employers seek in potential candidates. The most successful UX designers are those who take a broad view of an issue before making a decision. They take into account the small nuances of a problem and explore it from multiple angles. Job applicants who are vying for UX design positions may be asked to address a problem statement as part of their evaluation. Some recruiters may even require applicants to work on user experience research to test their abilities.
2. Ability to work in a team
The ability to communicate effectively is one is the most important UX designer skills due to their need to work with people from different backgrounds and expertise. Working in teams has become the norm in the industry to come up with better visual designs. It allows for multiple perspectives and a well-rounded view of the issue at hand, which in turn aids in the brainstorming process. Additionally, a collaborative attitude is preferred by most hiring managers when hiring for design-related roles over hard skills. Thus, it is evident that having the ability to collaborate is important for UX designers to produce eye-catching designs.
3. Strong communication skills
At its core, UX design is about creating a user experience that meets their needs. Thus, UX designers must be able to understand the client's requirements and communicate effectively with them. Communication is also an essential soft skill for graphic designers, as they often have to present their ideas and designs. Good communication can also be beneficial for building strong relationships with clients, pitching creative concepts to stakeholders, collaborating with team members, selling the value of UX design, and maximizing the results of brainstorming sessions.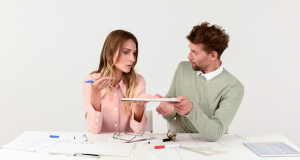 4. Understanding design and aesthetic principles
Staying true to the UI design process, including usability testing, creation of interaction design, and information architecture, is just as crucial as possessing proficiency in design software programs for different types of UX designers. The best designers have a strong commitment to research and are willing to create, test, and refine prototypes in order to produce the best outcome. They practice evidence-based critique and are open to altering their designs based on feedback. Moreover, they question assumptions and avoid biases, further adding to their set of soft skills. Research is essential in providing a strong foundation for UX design. Moreover, an effective UX designer has the ability to use mental shortcuts to evaluate a situation and choose the most appropriate problem-solving approach.
Additionally, the knowledge of visual design principles and the gestalt law allows a designer to create attractive interfaces, as well as to better understand what their competitors are doing correctly so they can make more informed decisions that enhance user experience.
5. Presentation skills
No matter what your career goals are, an effective presentation can help you reach them. As a UX designer, you must be able to present your designs, research insights, creative solutions, and even yourself to an audience. You need to understand the expectations and needs of the audience and how your idea can solve their problems. Crafting an engaging presentation that addresses the issues and aligns with the audience's goals is key to achieving success.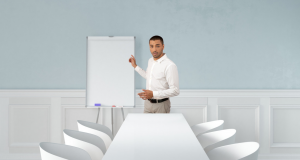 No matter your career goals, presentation skills are an integral part of a UX designer's toolkit. Not only do they allow you to present designs, research insights, creative solutions, ideas, and yourself effectively, but they also help you to convince and lead your audience toward a decision. As a UX designer, your main goal is to create experiences, and having a balanced arsenal of both hard and soft skills is the key to excelling in this field. Technical skills will only get you so far, but by having the impactful soft skills of a UX designer, you can unlock the secrets to lasting success.
So, happy designing and learning!